It's a bit late, but I finally finished my report of the magnificent event that was Shadocon! A tremendous amount of shenanigans occurred, so this journal will be supplemented with a copious amount of pictures and a video compilation that I made.

On Thursday night before the con, I drove to Sarasota to spend the night with my friend Morgan before we embarked the next morning. We left her place late on Friday afternoon bound for Tampa. We took our good old time getting into costume.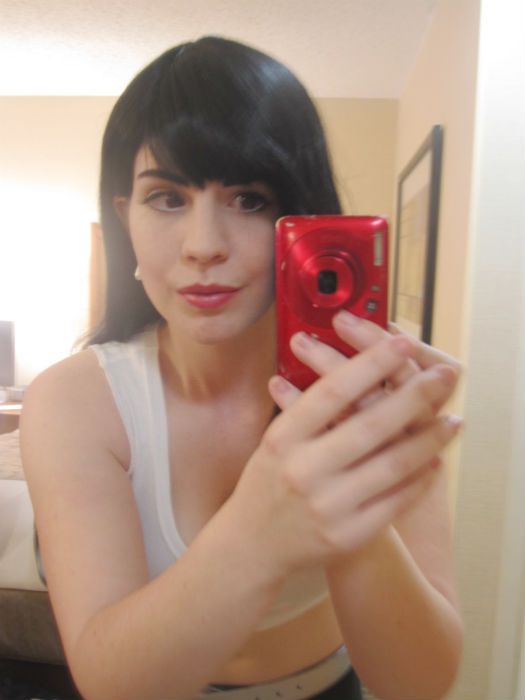 Halfway done! By the time we actually got our passes to the con, it was pretty late. We hung out for a while at
KikoJaharo
and
ZackLoup
's artist alley table while we waited for the Shado Tournament to end. It was there that we encountered MAN AERITH.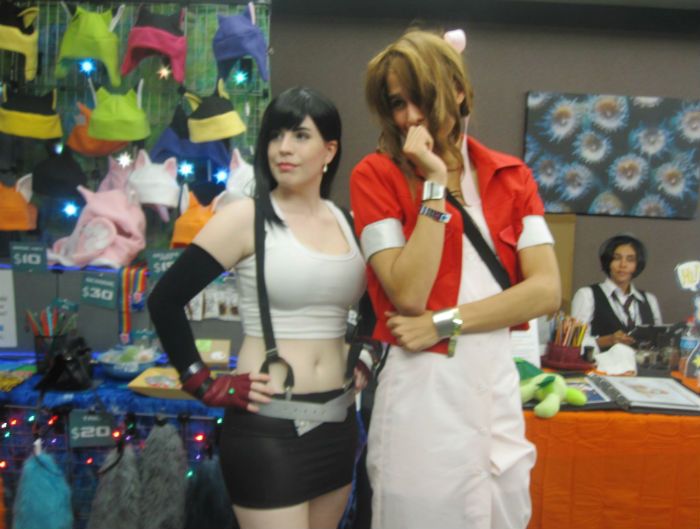 THIS WAS THE MOST FABULOUS AERITH EVER. SO KAWAII, DESU~
The tournament finally ended, and we got to see
leppa-berry
and
Argnarok
in their flawless Gurren Lagann costumes. I also ran into
Shinryuken-Fighter
who was awesome enough to get me a free ticket to the Final Fantasy Ball!

I'm so glad that he did, because I'd wanted to go and it gave Morgan and I something to do that night because
Lissinater
and
Jezzell
weren't there yet. The ball was great, but we left early to go to the Bad Fanfiction Reading Panel.
....That panel, guys. That panel. I can't really describe it. The people running the panel took volunteers from the audience to read the allotted terrible fanfictions while other audience members acted them out. Suffice it to say that there was a fanfiction about Goku and Anne Frank in love (in which Anne Frank was played by a guy in a horse mask) and I had to narrate a fanfic about Hitler, Jesus, and God having a threesome.
WE WILL NEVER. SPEAK. OF THAT NIGHT. AGAIN.

On Saturday, we woke up relatively late and didn't get to the con in costume until around 1:00 pm or so.
Lissinater
was there by this point, and so we embarked on a quest to go get pictures with her fancy camera. We started out by the big fountain they had outdoors. I did Gangnam Style with some Korra cosplayers while there, until I was lured away by the promise of free food. I have it in my ShadoCon video, which you can watch here.
www.youtube.com/watch?v=oNUXWo…
I'll be referencing other things from that video throughout the rest of this journal.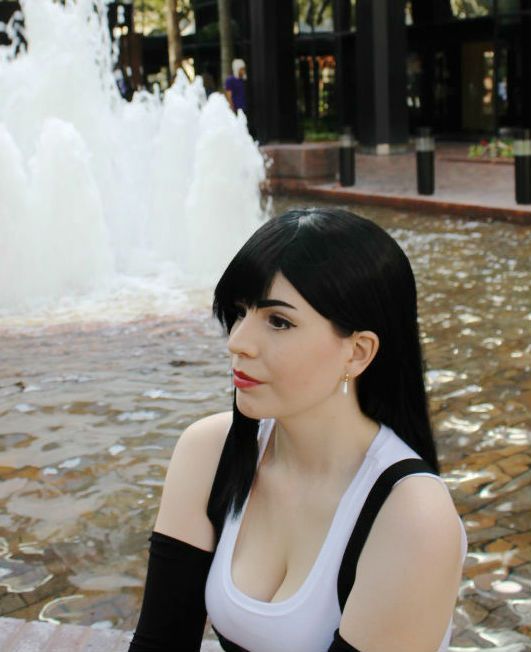 This was a candid shot of me, and I really like it. It's just very... Tifa-like.

Can we all just take a moment to appreciate LOLITA DEADPOOL? This guy was so great.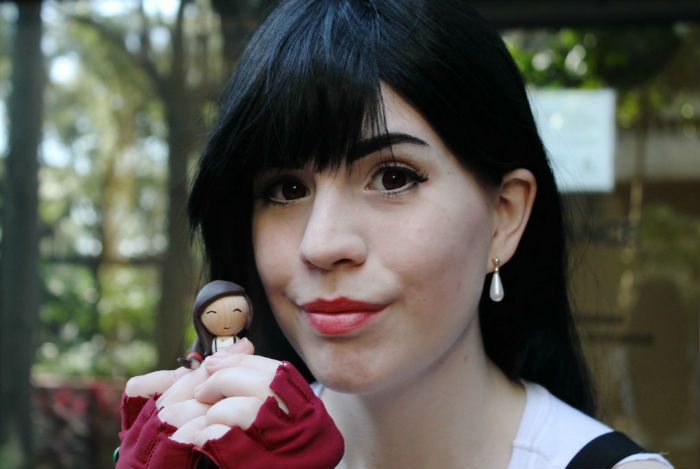 I brought a tiny wooden carving of Tifa with me that I'd gotten from Chibi-Pa a few years back. We named it Baby Tifa.
I debated whether or not to use red contact lenses for Tifa, and I'm glad that I did. It added a little something extra to the cosplay.

Jezzell
got to the con about an hour later, so I left the photoshoot to go let him into the hotel room. On the way back, I encountered
Shinryuken-Fighter
again, this time in his Zack Fair cosplay, and so I took him with me to get more pictures!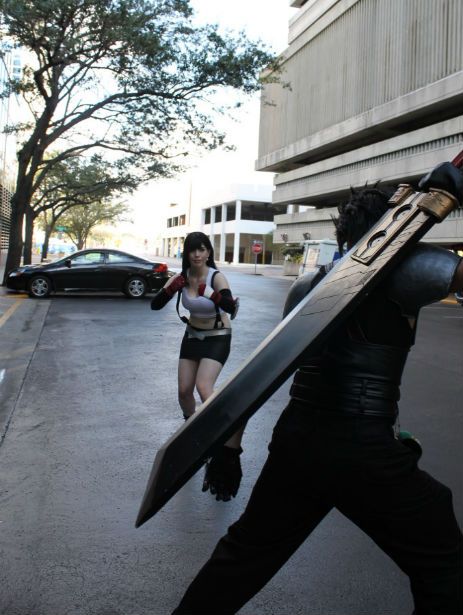 His sword looks so incredible in this shot.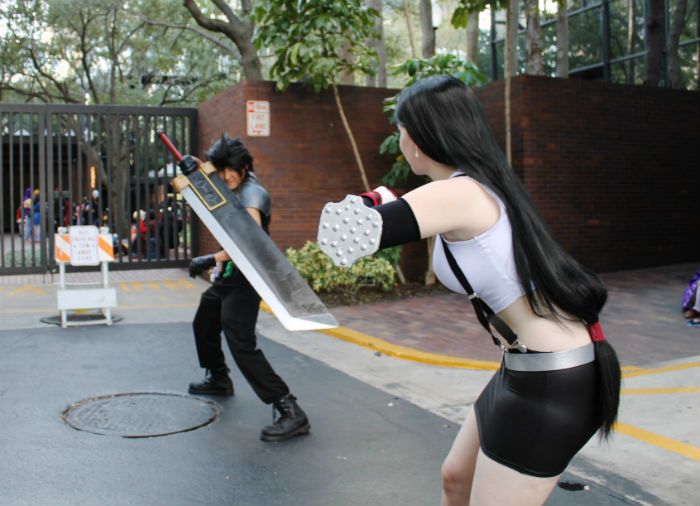 Someone teach me how to do a fighting pose. xD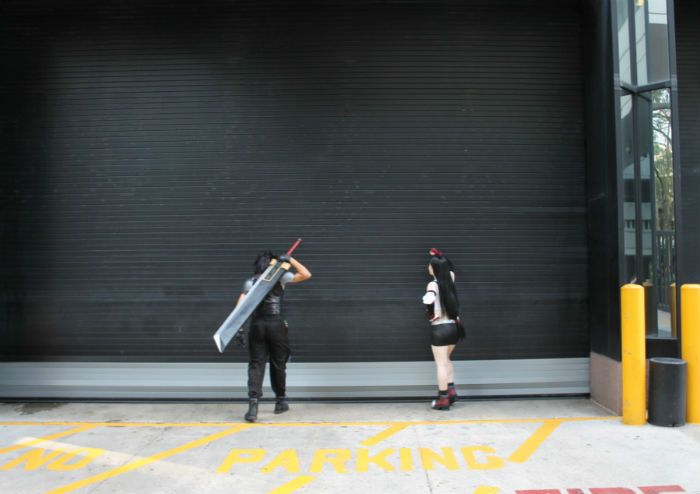 WE FOUND THE DOOR TO SHINRA.
WE'RE BREAKING IN!!
...sort of.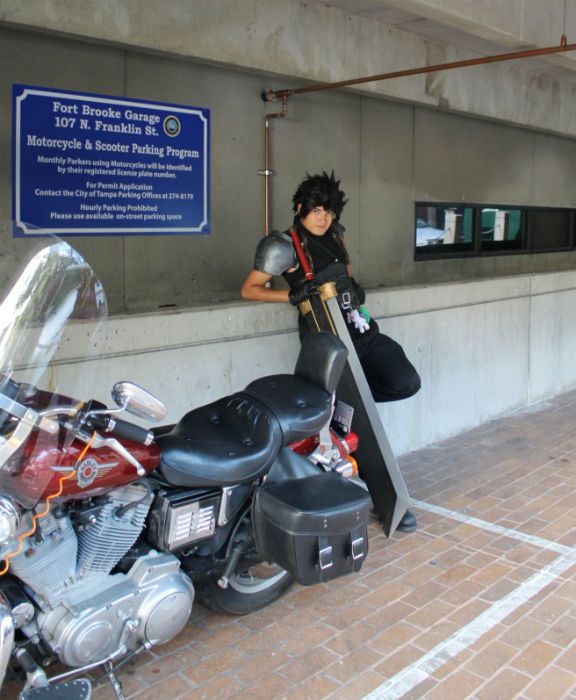 This is the infamous motorcycle that we found in the parking lot. It was parked there all day, and so we continuously exploited it for pictures.
Sorry, not sorry. >D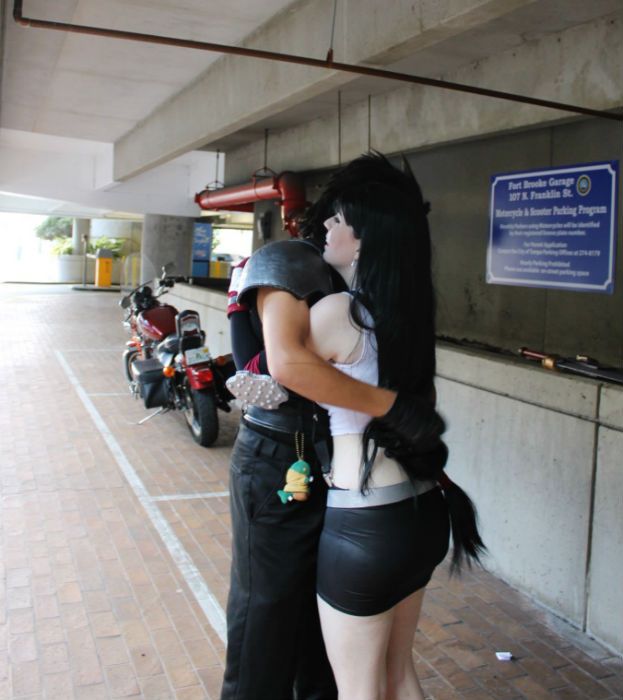 Zack has a weakness for Tifa (WHO DOESN'T?!), so I got a lot of hugs.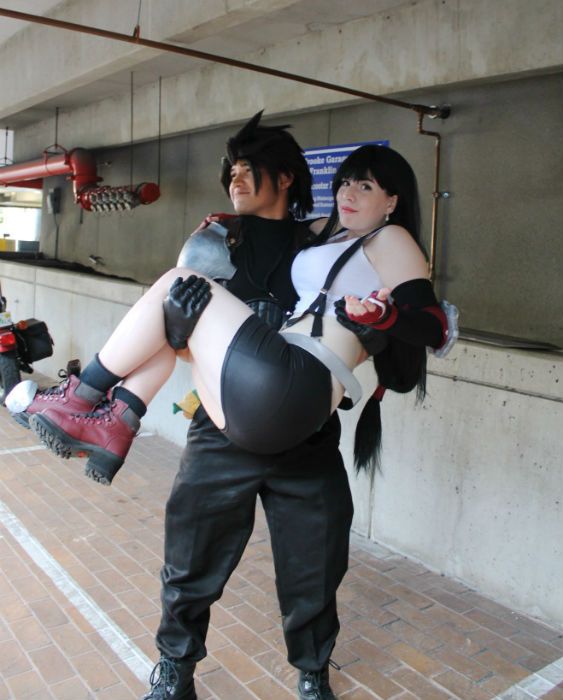 ...AND THEN I GOT KIDNAPPED.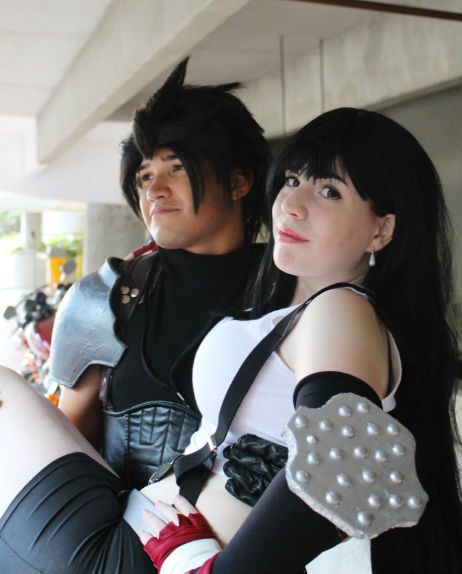 Zack: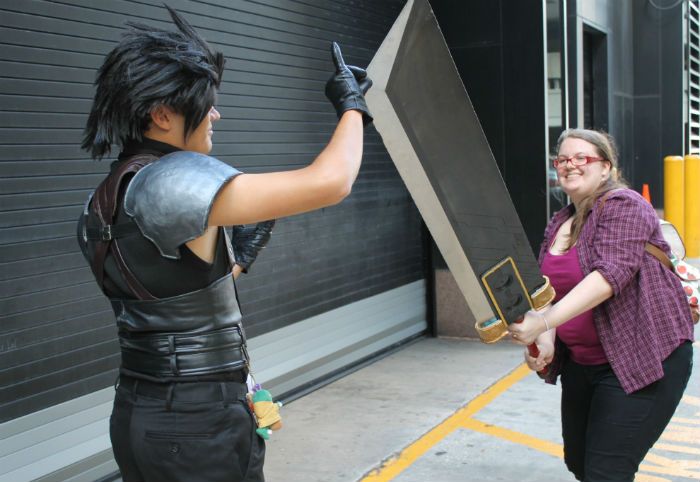 Lissinater
got to hold the Buster Sword.
I was posing all nice and spiffy-like when I wasn't too busy pelvic thrusting for the camera. xDDDDD
We headed back after a bit and all hung out for a while with
leppa-berry
and
Argnarok
, this time in their Birth By Sleep cosplays.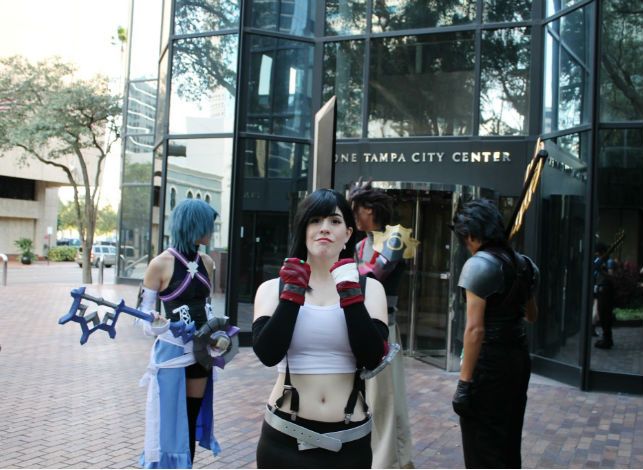 EVERYONE ELSE HAS THESE SUPER COOL WEAPONS AND I'M JUST OVER HERE WITH MY FISTS, DON'T MIND ME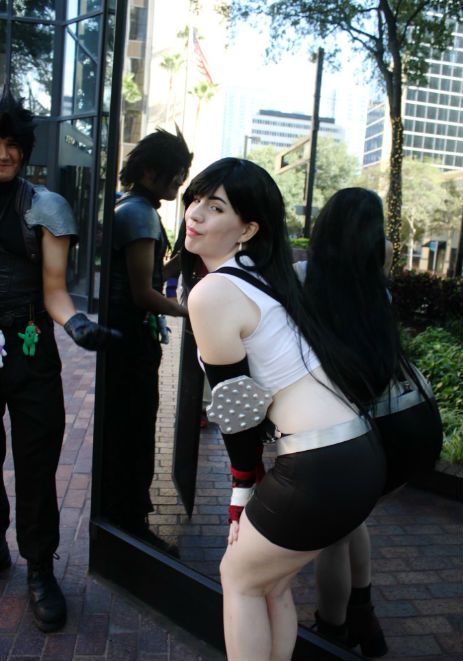 I take such attractive pictures, guys.
SUCH. ATTRACTIVE. PICTURES.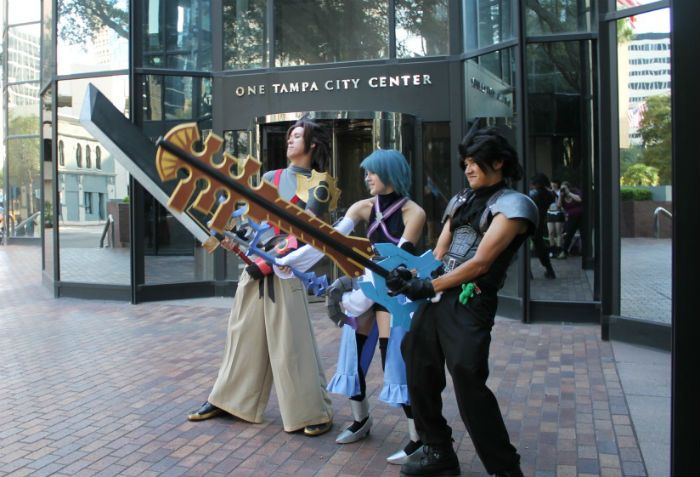 Here are the people who made ShadoCon spectacular.

Zack serenaded me while we were there, which you can see in the video.
At this point I left to go to the hotel room to see if
Jezzell
needed help with his Cloud costume, only to find that he was finishing spray painting his sword...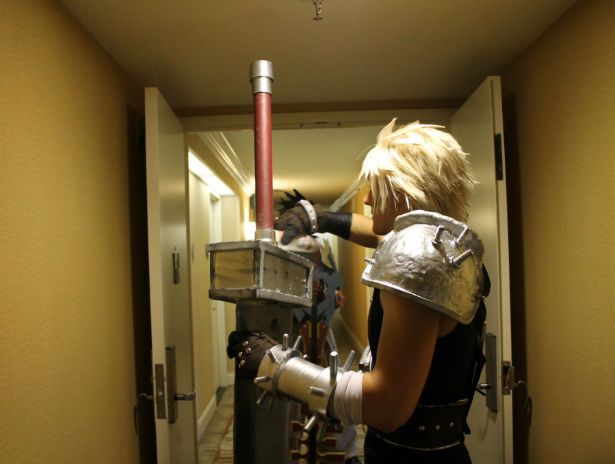 ...in the hallway.
While we were waiting for him to be finished, much silliness took place. We knighted Terra as Sir-Thirsty-As-Shit since he mentioned how parched he was as we waited, and that's in the video as well. And then, a picture was born- a picture so unbearably fabulous and magical in nature that I can only present it to you without further comment.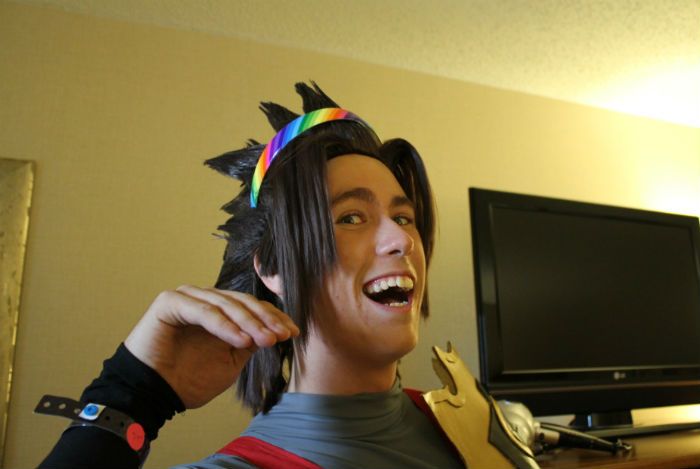 Terra with a rainbow headband.

Once Cloud was finished with everything, we were off to get more pictures.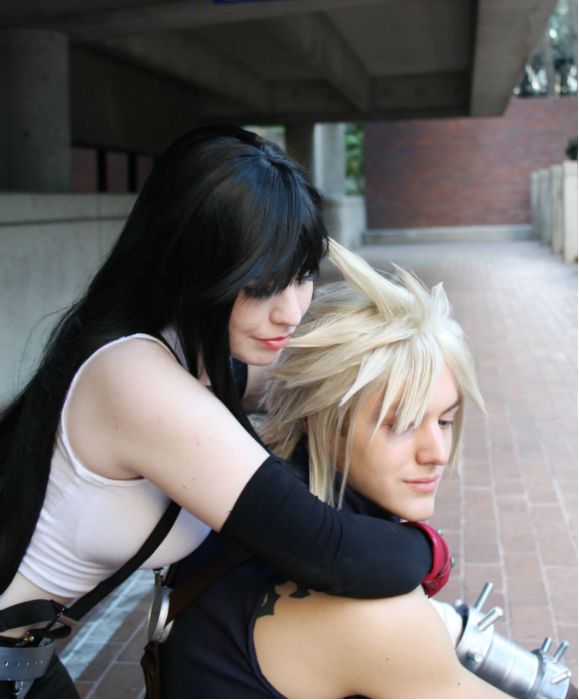 I see that smile, Cloud. I know you love it.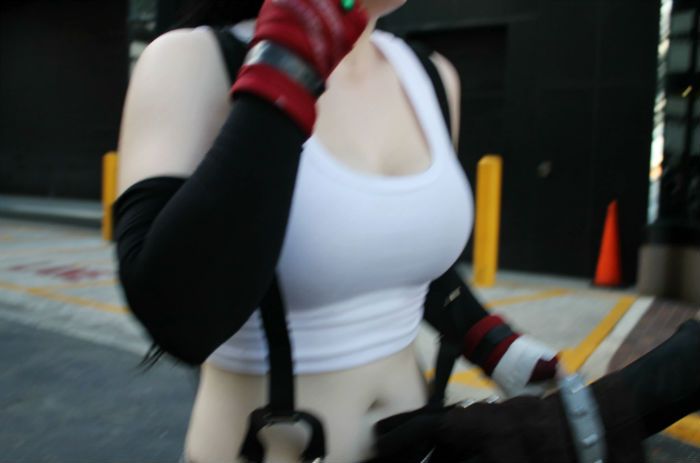 OKAY, LET ME EXPLAIN THIS PICTURE. Everyone kept assaulting my belly button all weekend (primarily Cloud and Zack >.> ) and it was NOT ALRIGHT. This time, Cloud was finally caught in the act.

After we were done taking pictures in the parking lot, we migrated over to an old parking garage.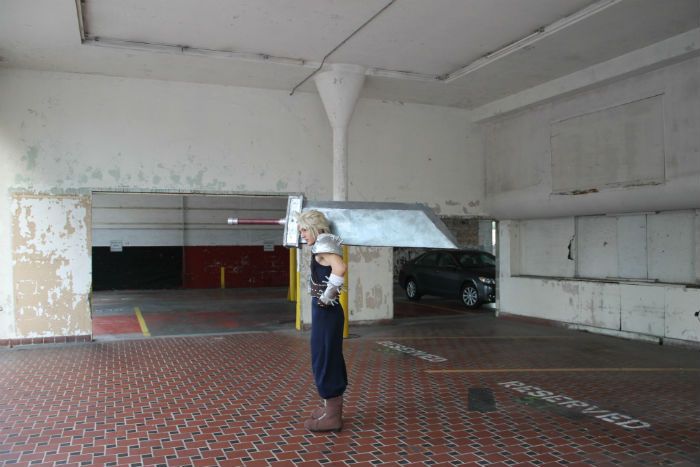 It looked almost like an abandoned factory.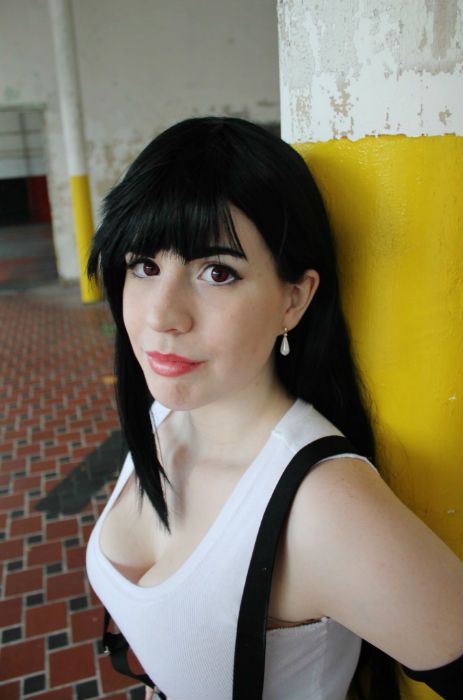 You're posing by the pole. There's no one around, and your phone is dead. Out of the corner of your eye you spot him... CLOUD STRIFE.
Cloud kept trying to hug me and whatnot, which made for a couple of shippy Cloud/Tifa-esque pictures. This was also NOT ALRIGHT.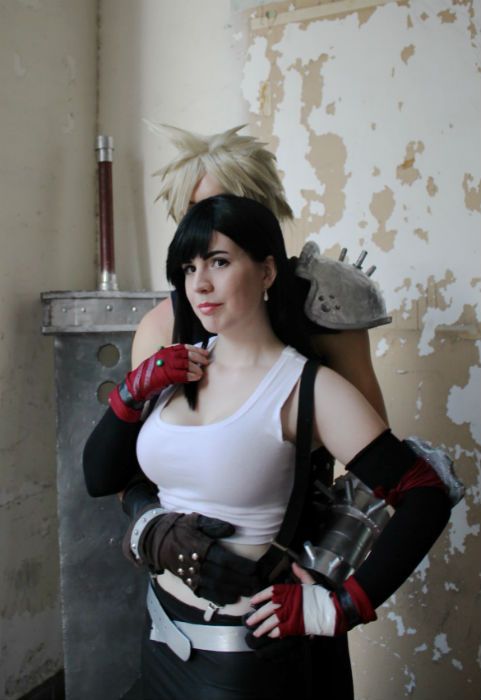 People who know me know that I personally adore Cloud/Aeris as a couple and am opposed to the idea of Cloud and Tifa together in a romantic sense.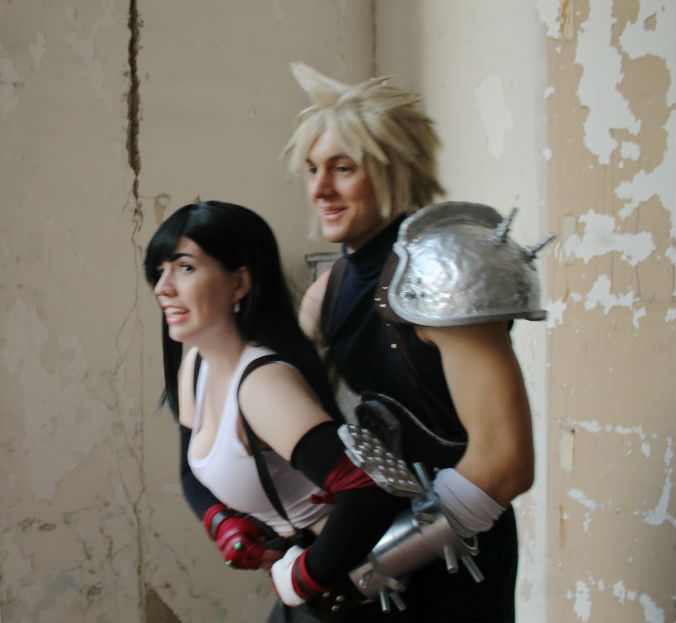 STOP THIS MADNESS, I DO NOT APPROVE
DOES THIS LOOK
UNSURE
TO YOU?
We explored the building a bit and found the spiral staircase that I've been uploading pictures of.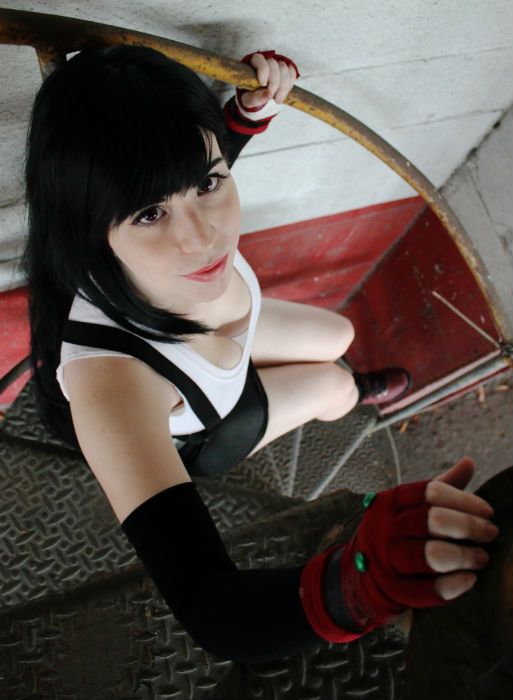 The angle of this picture makes my right arm look uncomfortably long. SLENDERARM.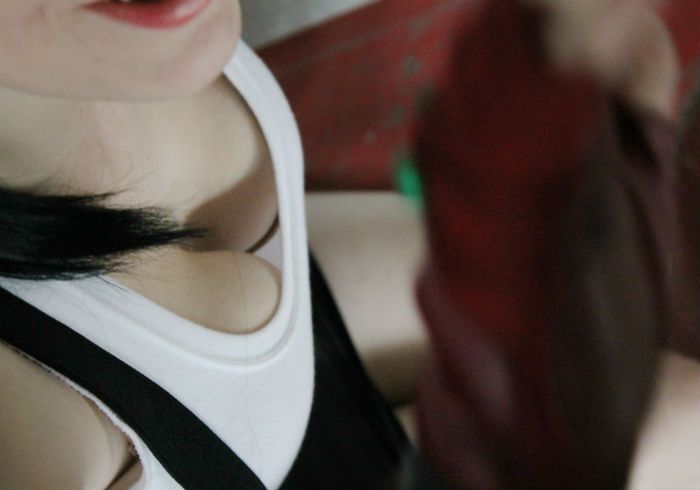 Lissinater
INTENTIONALLY ZOOMED IN ON MY CLEAVAGE AND I COULDN'T RAISE MY HAND TO STOP HER IN TIME, BBY Y U DO DIS 2 ME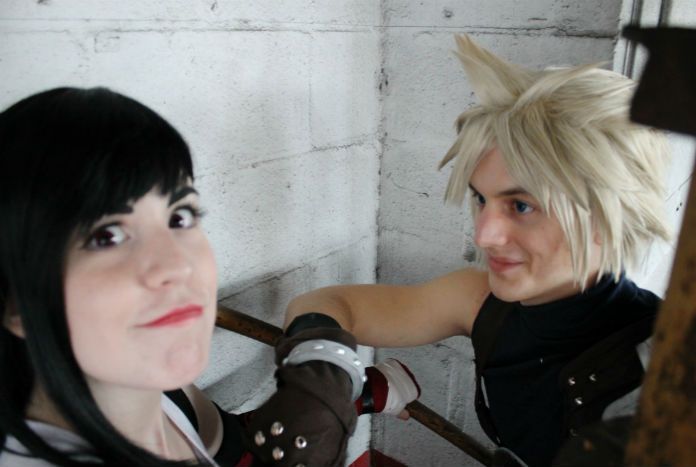 It was then that Cloud showed up. Look how happy I am to see him.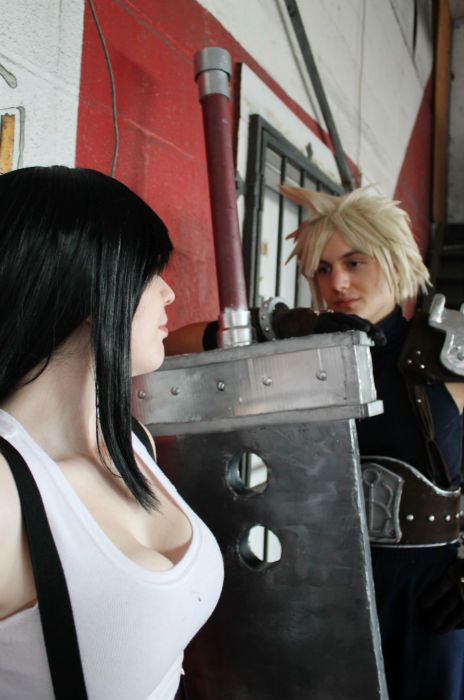 Cloud does the longing stare of PURE PLATONIC FRIENDSHIP, OKAY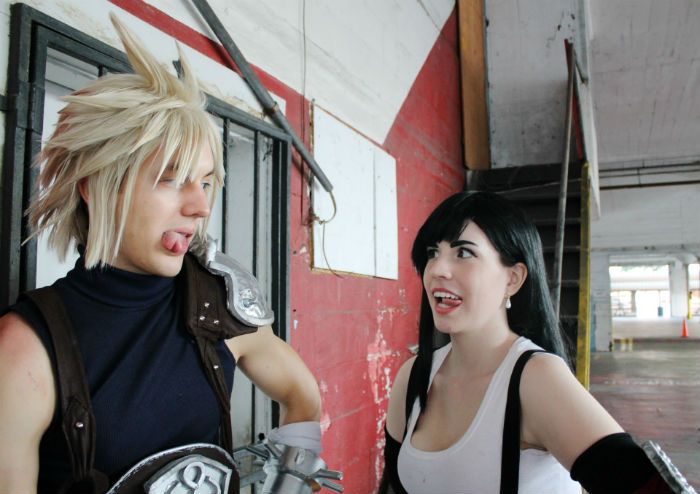 Easily our best photo together, amirite?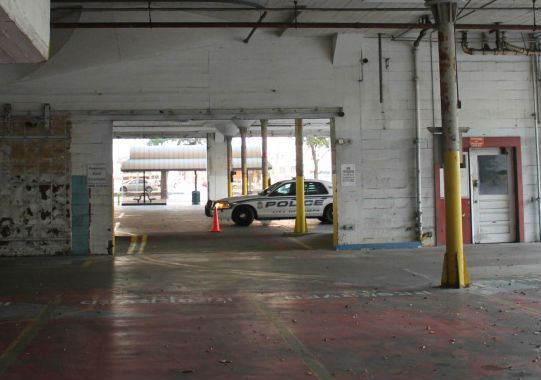 This cop car pulled into the building while we were taking pictures, and in that moment, I swear we were
infinite
about to get arrested because there was a "No Trespassing" sign in the garage. He just drove away though, so we lucked out.
To celebrate, we put Baby Tifa in the Buster Sword.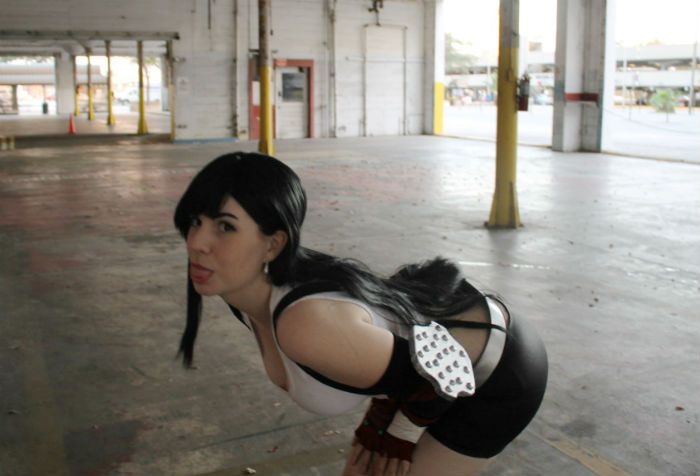 I was 500% done with trying to pose at this point, and so we scurried back to the convention.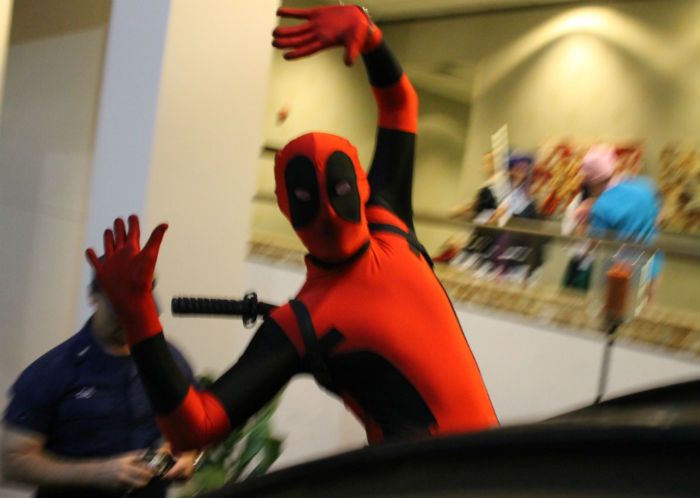 DEADPOOOOOOOOOL
There wasn't much to do at the convention and we were tired, so we went back to the hotel room and had a big spontaneous pizza party with
leppa-berry
and
Argnarok
along with a couple of their friends. We had a grand time eating and looking at pictures, and then we hatched a most devious plan. You see,
Shinryuken-Fighter
has an infamous nickname in the realm of conventions that he is not at all fond of, and earlier in the day he had relayed the origin story behind it to us while we were hanging out. It also just so happened that he was performing in the Mecha Chocobo event that evening. So as we were sitting around chilling, we thought, "Wouldn't it be hilarious if when he comes on stage during the event we all stand up, scream the nickname, and then throw a bra at him?" The resounding response was that yes. Yes it would be. And so we began preparations by practicing bra tossing in the hallway for fifteen minutes. xDDDDD
Unfortunately, since the event was running late,
leppa-berry
and
Argnarok
had to leave early, and poor
Shinryuken-Fighter
is such a nice guy, we eventually conceded to just enact our master plan in the hallway before the show. It's in the video, if you'd care to see.

The event was delayed so long that we ended up just bailing back to the hotel room to relax before the rave.
Jezzell
graciously allowed me to put make-up on him for the rave since I was bored. HE LOOKED SO SUGOIIII~~~~
The rave was fun, for only being like half an hour long.

The events ran so behind that the rave started more than two hours late, so I guess it couldn't be helped.
We didn't cosplay on Sunday and didn't stay at the con very long. However, we did spend a little time outside and got to witness some pretty great stuff. While we were sitting down and relaxing, there was a sudden commotion in front of us and we realized that a Sherlock cosplayer had stood up on the edge of the brick wall in front of us, seemingly about to jump off like in The Reichenbach Fall.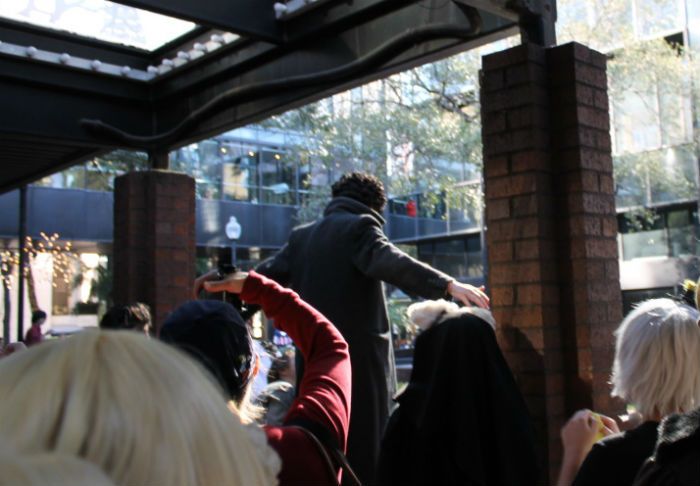 Everyone started screaming "DON'T DO IT!!" and finally some people pulled Sherlock back and everyone applauded. THEN BATMAN RAN OVER, HUGGED SHERLOCK, AND SAID, "DON'T DO IT. I LOVE YOU SO MUCH."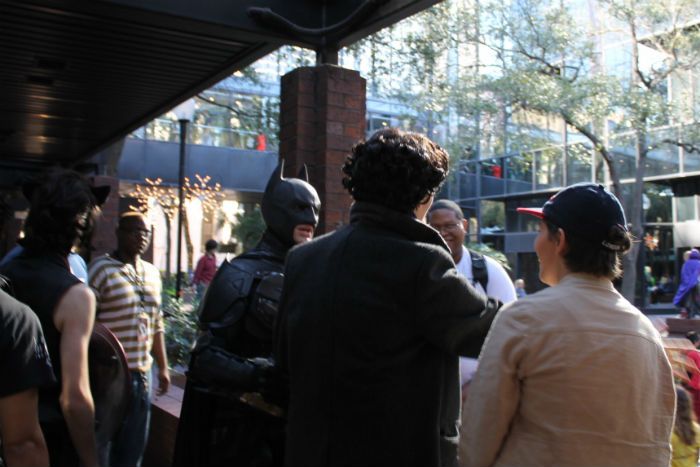 IT WAS SO AMAZING.
He is the night.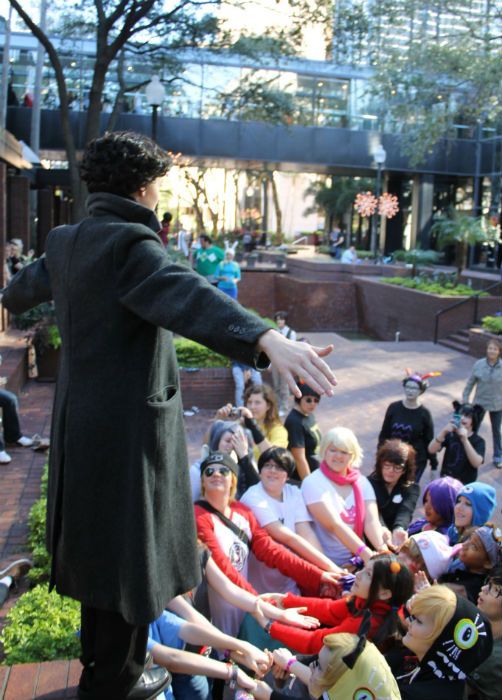 Sherlock then got up onto another balcony, this time with a herd of Homestuck cosplayers at the ready to catch him.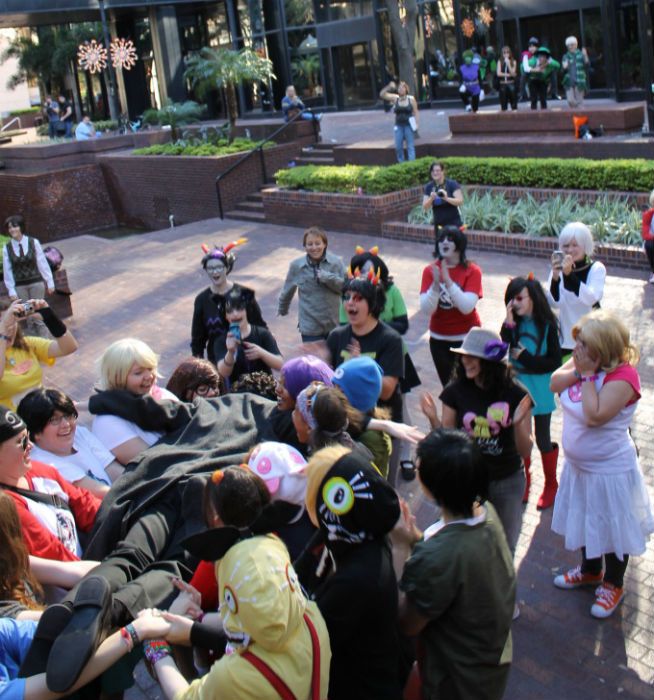 It seemed to have worked at first, but then...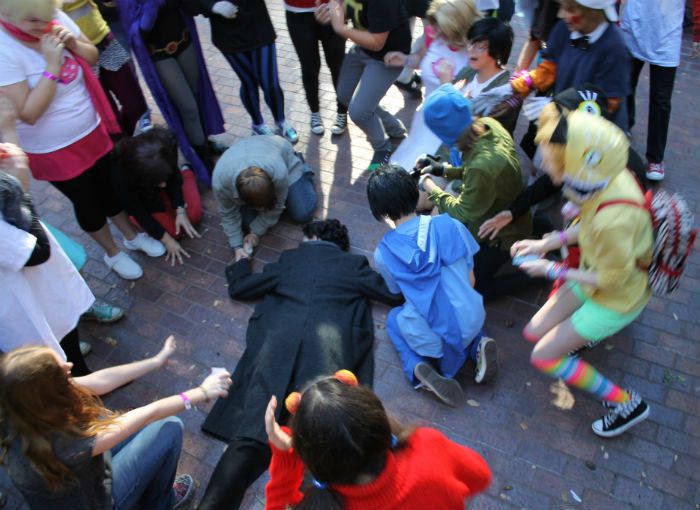 OOPS. YOU TRIED, HOMESTUCK.

All of this can be seen in my video.
That's about all I've got from ShadoCon! I'll be going to Holiday Matsuri in a little over a week, most likely only on Saturday. I'll probably be there as Tifa with
Jezzell
as Dissidia 012 Tidus and possibly
Lissinater
. I may or may not do a report on that con as well!